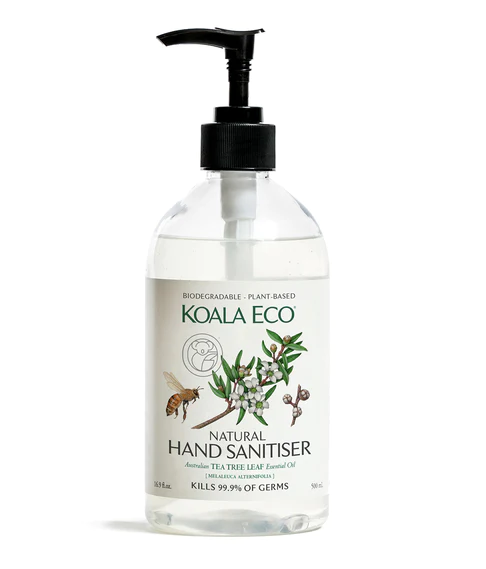 KOALA ECO | Natural Hand Sanitiser
$19.95
TEA TREE LEAF
CLEAN HANDS & GERM FREE

500ml
Our Lemon Scented Tea Tree Hand Sanitiser contains one of nature's most potent antiseptics and anti-bacterials. This 100% biodegradable and eco-friendly plant-derived formula effortlessly and safely sanitises hands without the need for toxic chemicals. Let the natural disinfecting strength of Tea Tree reassure and protect you. 
Safe, powerful, plant -based made with Australian essential oils.
Kind to your family and the environment. Everything we make is: biodegradable, plant-based, never tested on animals, grey water safe and septic safe. We don't use: Palm oil, dyes, masking agents, synthetic perfumes, chlorine, bleach, sodium laurel sulphates & phosphates.
Natural

Effective & powerful

Refreshing scent 


Eco-friendly 

Non-toxic
Plant-Based Ingredients: Ethanol-Denatured 70% (Sugar Based Biodegradable Alcohol), Aqua (Purified Water), Glycerin (Plant-Based), Acrylates Copolymer (Considered Clean), Melaleuca Alternifolia (Tea Tree Essential Oil), Sodium Hydroxide (Sugar Derived), Limonene (Component of Tea Tree Essential Oil).


NO NEW PLASTIC CREATED WITH THIS BOTTLE! 100% POST-CONSUMER RECYCLED BOTTLE AND RECYCLABLE! REUSE-REFILL-RECYCLE!